There seems to be an issue with the determination of the correct audio & subtitle tracks, on the "Robin Hood: Prince of Thieves" UHD disc (Arrow, GBR, 2022).
There are 2 main-movie playlists on the disc:
- 00100.mpls (Theatrical Cut)
- 00101.mpls (Extended Cut)
For the Extended Cut (00101.mpls), I *think* that it's correct (but that should probably be validated). DTS-HD MA 5.1 and 2.0 tracks, 2 DTS commentaries, & PGS subtitles are selected, and the alternate DTS-HD MA 5.1 and 2.0 tracks (presumably for the Theatrical Cut) are deselected (*/hidden). For the Theatrical Cut (00100.mpls), however, all of the audio tracks and the subtitle track are deselected (*/hidden). BDInfo (included below) does not show these as hidden, so I think that it's an issue in DGDemux, rather than some authoring error on the disc. I tried DGDemux v62 & v63, with the same results.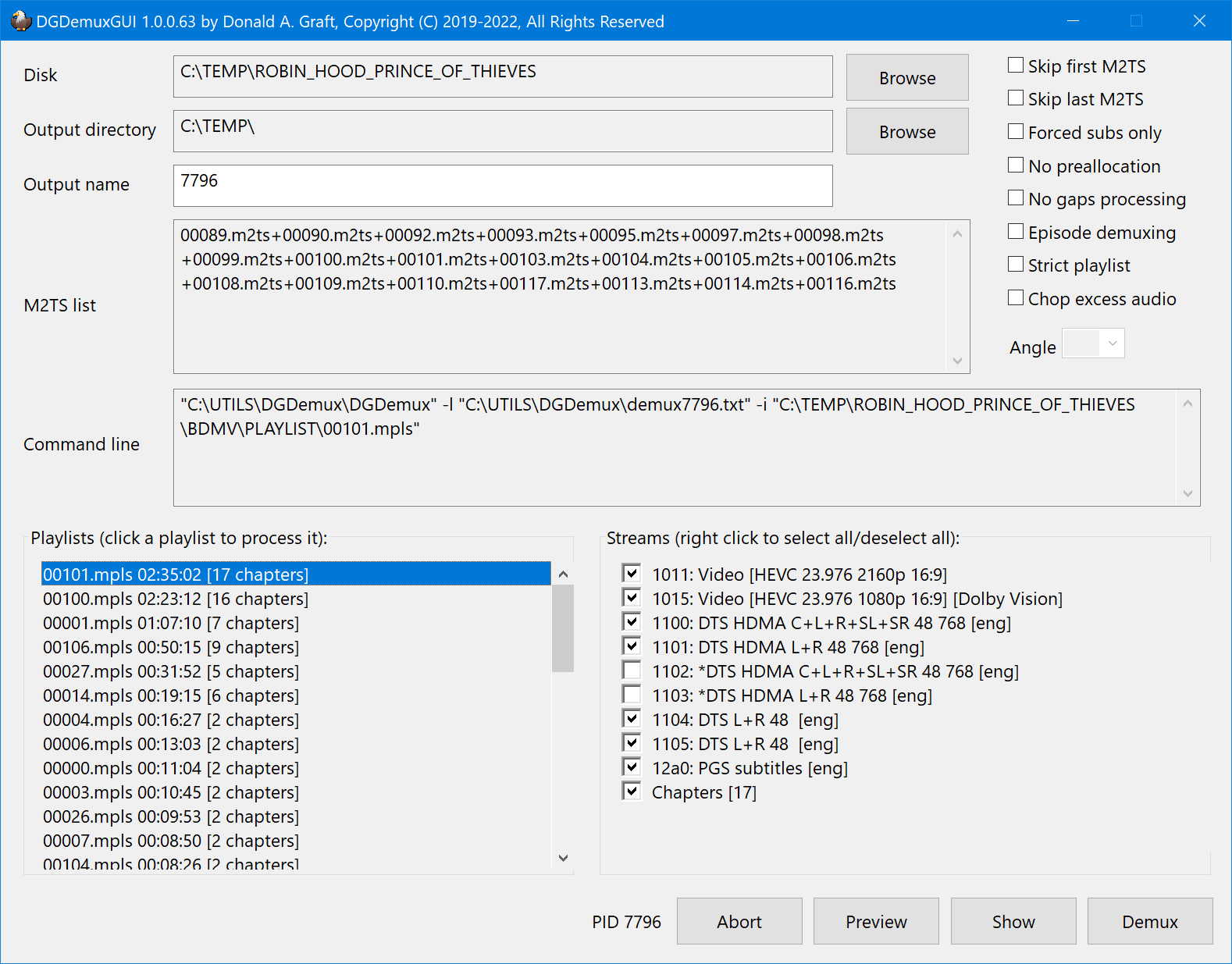 BDInfo for both playlists:
Code: Select all
********************
PLAYLIST: 00100.MPLS  
********************
(*) Indicates included stream hidden by this playlist.

VIDEO:

Codec                   Bitrate             Description     
-----                   -------             -----------     
MPEG-H HEVC Video       62693 kbps          2160p / 23.976 fps / 16:9 / Main 10 @ Level 5.1 @ High / 4:2:0 / 10 bits / 1000nits / HDR10 / BT.2020
* MPEG-H HEVC Video     76 kbps (0.12%)     1080p / 23.976 fps / 16:9 / Main 10 @ Level 5.1 @ High / 4:2:0 / 10 bits / 1000nits / Dolby Vision MEL / BT.2020

AUDIO:

Codec                           Language        Bitrate         Description     
-----                           --------        -------         -----------     
DTS-HD Master Audio             English         2026 kbps       5.1 / 48 kHz / 2026 kbps / 24-bit (DTS Core: 5.1 / 48 kHz / 768 kbps / 24-bit)
DTS-HD Master Audio             English         1055 kbps       2.0 / 48 kHz / 1055 kbps / 24-bit (DTS Core: 2.0 / 48 kHz / 768 kbps / 24-bit)
* DTS-HD Master Audio           English         2024 kbps       5.1 / 48 kHz / 2024 kbps / 24-bit (DTS Core: 5.1 / 48 kHz / 768 kbps / 24-bit)
* DTS-HD Master Audio           English         1053 kbps       2.0 / 48 kHz / 1053 kbps / 24-bit (DTS Core: 2.0 / 48 kHz / 768 kbps / 24-bit)
* DTS Audio                     English         256 kbps        2.0 / 48 kHz / 256 kbps / 16-bit
* DTS Audio                     English         256 kbps        2.0 / 48 kHz / 256 kbps / 16-bit

SUBTITLES:

Codec                           Language        Bitrate         Description     
-----                           --------        -------         -----------     
Presentation Graphics           English         29.806 kbps       

Code: Select all
********************
PLAYLIST: 00101.MPLS  
********************
(*) Indicates included stream hidden by this playlist.

VIDEO:

Codec                   Bitrate             Description     
-----                   -------             -----------     
MPEG-H HEVC Video       62639 kbps          2160p / 23.976 fps / 16:9 / Main 10 @ Level 5.1 @ High / 4:2:0 / 10 bits / 1000nits / HDR10 / BT.2020
* MPEG-H HEVC Video     76 kbps (0.12%)     1080p / 23.976 fps / 16:9 / Main 10 @ Level 5.1 @ High / 4:2:0 / 10 bits / 1000nits / Dolby Vision MEL / BT.2020

AUDIO:

Codec                           Language        Bitrate         Description     
-----                           --------        -------         -----------     
DTS-HD Master Audio             English         2005 kbps       5.1 / 48 kHz / 2005 kbps / 24-bit (DTS Core: 5.1 / 48 kHz / 768 kbps / 24-bit)
DTS-HD Master Audio             English         1050 kbps       2.0 / 48 kHz / 1050 kbps / 24-bit (DTS Core: 2.0 / 48 kHz / 768 kbps / 24-bit)
DTS Audio                       English         256 kbps        2.0 / 48 kHz / 256 kbps / 16-bit
DTS Audio                       English         256 kbps        2.0 / 48 kHz / 256 kbps / 16-bit
* DTS-HD Master Audio           English         2033 kbps       5.1 / 48 kHz / 2033 kbps / 24-bit (DTS Core: 5.1 / 48 kHz / 768 kbps / 24-bit)
* DTS-HD Master Audio           English         1053 kbps       2.0 / 48 kHz / 1053 kbps / 24-bit (DTS Core: 2.0 / 48 kHz / 768 kbps / 24-bit)

SUBTITLES:

Codec                           Language        Bitrate         Description     
-----                           --------        -------         -----------     
Presentation Graphics           English         29.426 kbps